Electric or Plug-in Electric Hybrid – The Choice is Yours at Lamb Ford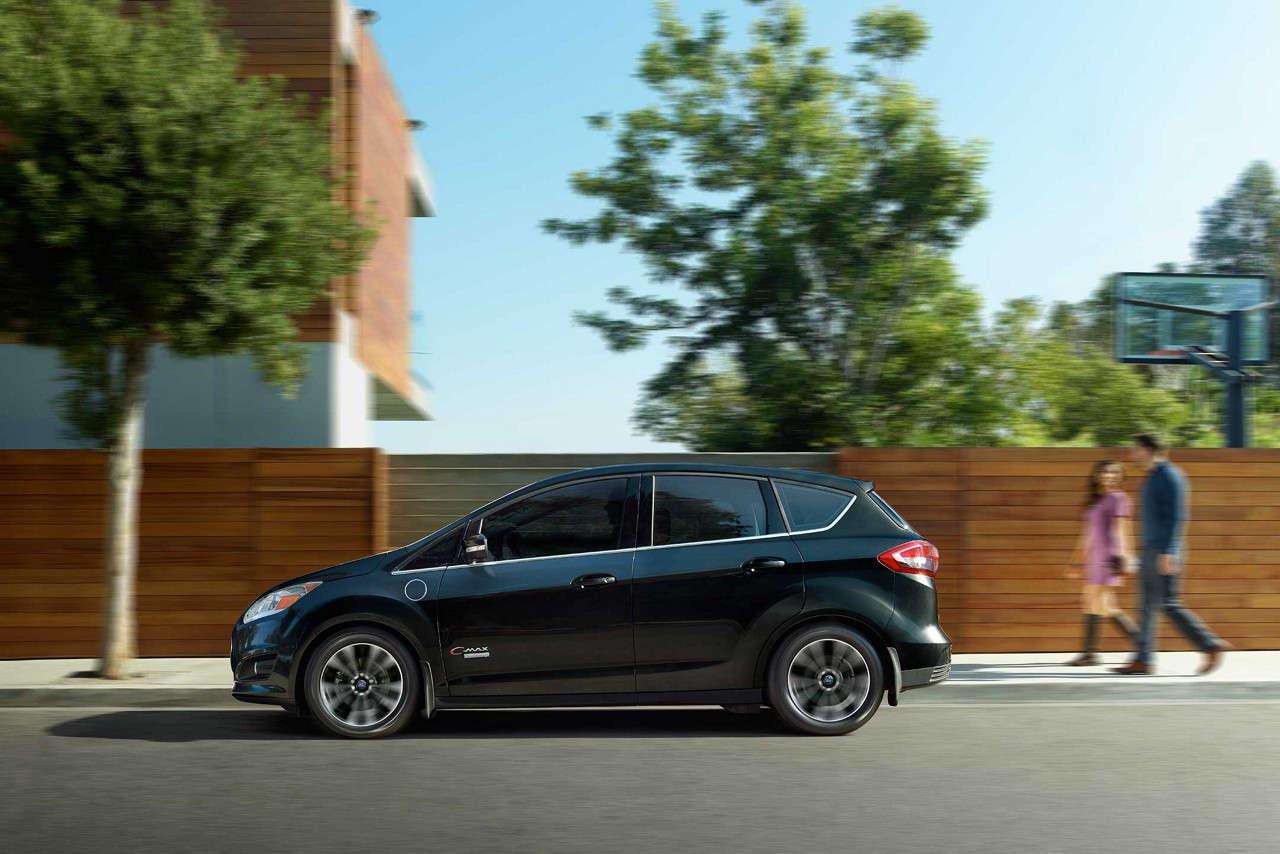 For 2017 Ford offers three energy-conscious models that utilize electric power. The Ford Focus Electric, which is an entirely electric vehicle, and the C-Max Hybrid and Fusion Energi, which are both hybrid vehicles driven by an electric motor but either generate electricity through the on-board gasoline engine, or recharge its battery through an electrical outlet while parked.
Ford Focus Electric
For 2017, Focus Electric brings an improved driving range of 185 km. And delivers equivalent fuel economy of 2/2.5 L/100 km in the process*
Ford's longest-range battery electric vehicle now comes standard with all-new DC fast charge, which can deliver 120 km of range in 30 minutes when using a charger capable of 150 amps. Further, the capacity of the battery has been enlarged by more than 40 percent when compared to last year's Focus Electric, with no increase in size.
When charging, owners can monitor the progress through an ingenious LED indicator mounted on the handle of the charger. Flashing lights indicate the status of the charge in progress, and when all are lit, the charging process is complete.
The 143 horsepower electric motor and single-speed automatic transmission accelerate briskly, reaching speeds of 84 mph while the well-appointed cabin remains quiet and comfortable.
Consistent with this low environmental impact concept, the 2017 Ford Focus Electric is manufactured with seat cushions and seat fabric are made from foam derived from a plant source and from fabric woven with fibers made from recycled materials.
The dashboard SmartGauge display with EcoGuide communicates to the driver through a pattern of blue butterflies. The more butterflies, the greater the range of the Focus Electric. At the end of each trip, distance driven, miles gained through regenerative braking, and energy consumed is displayed for the driver's review.
2017 Ford C-Max Energi and Ford Fusion Energi
Both the C-Max Energi and Fusion Energi are Hybrid Vehicles, which means they utilize a gas engine and battery-driven electric motor combine to provide power. When powered by gasoline, the vehicles use a 2.0-liter Atkinson-cycle four-cylinder.
The electric motors are powered by energy stored in the lithium-ion battery system. As both the C-MAX Energi and the Fusion Energi can also be recharged by connecting to either a standard 120 V wall outlet or an available 240 V recharging station, they are classed as Plug-In Hybrid Electric Vehicles (PHEV). In essence, you can view the C-Max Energi and Fusion Energi as Electric Vehicles that can extend their range through their own on-board generators.
The PHEV Drivetrain Consists on a Gas Engine, Electric Motor, and High-Capacity Batteries
Both the 2017 Ford Fusion Energi and the 2017 Ford C-Max Energi are powered by a 2.0 L Atkinson-Cycle Plug-in Hybrid Engine coupled to a Permanent Magnet AC Synchronous Motor and backed by a Lithium-Ion battery system. Where a PHEV really shines is in range. Set off from Lamb Ford in in either your new 2017 Ford Fusion Energi or 2017 Ford C Max Energi with a full charge on the batteries and a fuel tank of gas and you won't have to stop until right around when you reach the Manitoba border.
Both comes equipped with SmartGauge with EcoGuide in essence a coaching system that helps teach the driver how they can best manage their energy utilization. A brake coach feature helps drivers optimize the recharging capabilities of regenerative braking. Illuminated green leaves on the dashboard provide the driver feedback on their driving efficiency.
The 2017 Ford C-Max Energi is rated at a Miles per Gallon Equivalent (MPGe / Le/100km) of 2.5 Le/100 km while the 2017 Ford Fusion Energi is rated at 2.4 Le/100 km.
All three models can make good use of the MyFord Mobile smartphone app that allows drivers to remotely monitor charging, locate charging stations along their route, and more.
Ford's clever SYNC 3 system is also available in all three models. It features an easy-to-use smartphone-like touch screen to provide multiple ways for drivers and passengers to control their phone, the vehicle's navigation and entertainment functions through voice commands, touch screens, buttons or knobs.
To learn more about the advantages of an Electric Vehicle and a Plug-in Hybrid Electric Vehicle and which would best meet your needs and driving habit, some see the expert at Lamb Ford. And they are experts, as they've approved by Ford as a Certified Electric Vehicle dealer, which requires ongoing sales and service training and other changes to the dealership. So head over to Lamb Ford and test drive the EV of PHEV of your choice.
*Fuel consumption ratings based on Government of Canada approved test methods. Actual fuel consumption will vary.